Redimensionner les textes:
Haitian President Martelly and Prime Minister Gary Conille Appoint Humanitarian and Activist Gerald Oriol, Jr. as Secretary of State for the Integration of Persons with Disabilities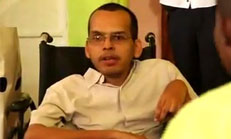 Secretary Oriol to Collaborate with Haiti's Public and Private Sectors to Integrate Disabled Persons into Schools and Employment and Provide Access to Needed Services
PORT-AU-PRINCE, Haiti–(BUSINESS WIRE)–Haitian President Michel Martelly and Prime Minister Gary Conille have appointed social development activist Gerald Oriol, Jr. as Haiti's Secretary of State for the Integration of Persons with Disabilities. One of the underreported human stories in Haiti is the striking percentage of its population that is disabled. 800,000 of the approximately 9.9 million citizens of the island nation fall into this category. That is nearly 1 in 10. Till this point, little has been done at the national level to provide social services and ensure that this segment of the population is empowered to become productive members of society.
Secretary Oriol, who himself has overcome muscular dystrophy, was graduated Cum Laude from the University of Florida, completed a Master of Liberal Arts degree with a concentration in Sustainability and Environmental Management from Harvard University, and ran for congress in Haiti in 2006. He is the personification of rising above one's physical limitations. Drawing on his own experiences, the Secretary is looking to implement initiatives to provide education, employment opportunities and the necessary assistance services to ensure that this group of Haitians is not left behind. Working with his team as well as the Ministries of Labor, Education, Health, and Public Works, the Secretary will institute a diverse set of programs, including collaborating with:
The Ministry of Social Affairs and Labor to develop access to employment, as well as directly with the private sector in Haiti;
The Ministry of Education to advocate for better access for persons with disabilities to specialized facilities and to mainstream schools;
The Ministry of Public Health to ensure that individuals whose disability requires care have access to needed services;
The Ministry of Public Works to ensure that accessibility is a priority during the reconstruction period;
Haiti, perhaps more than any other nation, needs all its citizens to be as productive as they can be. It is Secretary Oriol's view that each person, regardless of handicap or medical condition, should be empowered to reach their full potential and be a contributing member of society. The Secretary will also seek to provide support, sustainability and encouragement to associations currently working for people with disabilities in Haiti such as Handicap International and CBM. His appointment will serve the administration's greater goal of creating an integrated and far reaching vision to build institutional capacity and strengthen the economic sector and development in Haiti.
« It's imperative for the public and private sectors to work together in Haiti to create trickle up economic development conditions for the betterment of the country in general and its disabled population in particular, » says Oriol. « It is not just a question of human rights and equal opportunity. A person with disability can be as effective as a non-disabled person in the workplace, and in many instances even more effective. Undoubtedly, efforts to integrate disabled people will help tap underused resources and skills for national development. »
Oriol has a successful track record of initiatives that have benefitted both the disabled and abled population in Haiti. Working closely with the Voila Foundation, 2009 winner of the ACE Award for its corporate social responsibility work, and Sporting Chance Foundation, founded by former Red Bulls soccer player Seth Stammler, Oriol has managed and executed programs for the disabled and disadvantaged populations in Haiti through his foundation J'Aime Haiti, also seen on Facebook at www.facebook.com/jaimehaiti with photos. Some of Oriol's accomplishments include:
Oriol's initiatives and accomplishments in his official capacity can be followed at www.seiph.gouv.ht.
For information, visit:
Website J'Aime Haiti: www.jaimehaiti.org
Facebook J'Aime Haiti: www.facebook.com/jaimehaiti
Website Secretary of State for the Integration of Disabled Persons: www.seiph.gouv.ht
Facebook Secretary of State for the Integration of Disabled Persons: http://www.facebook.com/bseiph
Contacts
Haitian media:
Othniel Etienne, Cell: 509-3400-3219
mxothniel@gmail.com
or
International media:
Gwynne Beatty, Cell: US +917-992-9517; Haiti 509-3457-2604
gbeatty@hs-br.com