Redimensionner les textes:
Shafallah forum ends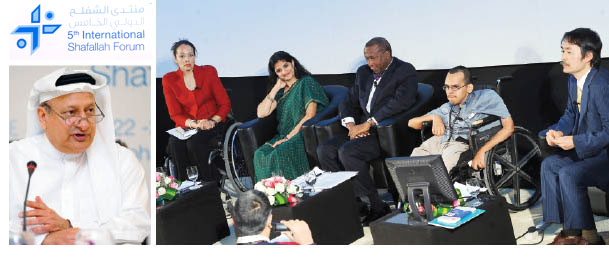 Hassan Ali bin Ali, Chairman of Shafallah Centre for Children with Special Needs, addressing the press conference yesterday. and From left: Charlotte McClain Nhlapo, Coordinator of the Office for disability and inclusive development, USAID, Shantha Rau Barriga, Researcher/ Advocate Disability Rights, Human Rights Watch, Alonzo L Fulgham, former director, USAID, Gerald Oriol, Jr Secretary of state for the integration of persons with disabilities, Government of Haiti with Tsunenari Yamasaki, Programme Director, Tokyo Broadcasting System as Moderator at the final session on 'Recovery and Rebuilding' at the fifth Shafallah International Forum yesterday. Shaival Dalal
DOHA: The Shafallah centre for children with special needs will soon begin to work with international partners to help refuges with disabilities in Palestine and Uganda.
The centre will sign Memorandum of Understanding with humanitarian agencies to support the persons with disabilities in the refugee camps, said Hassan Ali bin Ali, Chairman, Shafallah centre for children with special needs yesterday.
"Within 30 days an MoU will be signed with partners on how we are going to help refugees with disabilities in those (Palestine and Uganda) camps," he said addressing a press conference held before the closing of the Fifth International Shafallah Forum.
The three-day International Shafallah forum organised by the Shafallah Center for Children with Special Needs was dedicated to people with intellectual and physical disabilities, with an urgent focus on 'Crisis, Conflict and Disability: Ensuring Equality.'
It examined the impact of on going crises and conditions faced by persons with disabilities in refugee camps and conflict zones in the Middle East and Africa and how recent natural disasters in Japan, Haiti, Pakistan, and the United States have affected persons with disabilities.
In his closing remarks Ali bin Ali summarised the forum's three main recommendations through a declaration to support the people with disability in crisis and conflict situations.
"Disability must be an integral part of all emergency and humanitarian response before and after a crisis hits, through sustainable development programmes," he said.
There is an urgent need for disability to be taken into consideration throughout all phases of humanitarian assistance. All humanitarian actors should ensure that emergency preparedness, response and recovery programmes are inclusive, rights-based and respond to the needs of persons with disabilities, the declaration recommended.
It also says that the principles in the UN Convention on the Rights of Persons with Disabilities should underpin all humanitarian efforts and international protection frameworks, particularly Article 11 – calling on governments to develop National Action Plans or Policies, which identify strategic actions, priorities and resources, and determine responsibilities and timeframes at the national level. Ali bin Ali also made a special mention about the creation of One Billion Strong, an international NGO focusing on elevating the status of persons with disabilities.
He explained that the initiative will support the true implementation of the United Nations Convention on the Rights of Persons with Disabilities through global awareness raising of disability issues and in-country development programs at the community level.
The fifth International Shafallah Forum brought together first ladies of several countries and more than 250 government leaders, persons with disabilities, and prominent experts to discuss and showcase the latest developments in inclusive emergency planning to ensure the protection and safety of persons with disabilities during armed conflict, humanitarian crises  and natural disasters.
Source: http://www.thepeninsulaqatar.com/qatar/180924-shafallah-forum-ends.html